Logo Contest!
Date Posted: Tuesday, July 31st, 2018

Dover/Kent County Metropolitan Planning Organization Announces Logo Contest

DOVER, DE: The Dover/Kent County MPO is looking for a new logo. "The current logo was done around twenty years ago by a professional artist, and it has served us very well. We are just hoping to update our brand for the digital and social media age." said Helen Wiles, the public outreach manager for the MPO.

The logo contest is open to anyone and everyone. First submissions should be in PDF or JPEG format, and sent to Ms. Wiles at helen.wiles@doverkentmpo.org, or they can be mailed to Dover/Kent MPO, PO Box 383, Camden DE 19934. All first submissions must be received by September 30, 2018. Please include your name and phone number with your submission. The MPO staff will be narrowing down the submissions to three finalists, which will be contacted for more information. All of the finalists will be voted on by the public. The winner of the voting round will go before the MPO Council for approval.

All of the rules and regulations are available at www.doverkentmpo.org and on their social media pages under doverkentmpo.

The designer of the final logo will be featured in the MPO newsletter, press releases, and social media. The winner will also get designer credit on many publications that the MPO produces.

The Dover/Kent County Metropolitan Planning Organization is a federally funded not-for-profit that works with local, state and federal governments along with local transportation organizations to ensure that transportation planning and projects are done in compliance with Federal mandates to include the Federal Clean Air Act and the Safe Accountable Act for the 21st Century.

For more information on the Dover/Kent County MPO, please visit www.doverkentmpo.org or call Helen Wiles at 302-387-6026.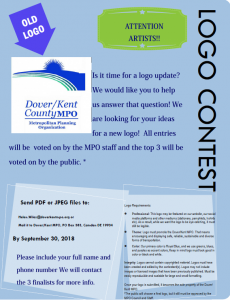 Tags: art, contest, doverkentmpo, logo